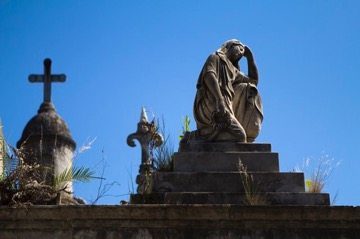 Image via Pexels
Death for many can be an overwhelming thought.  We go through life with zest and the desire to experience as much as possible.  So often, a loved one's passing is met with fear, denial and little planning.  The reality is that one day each person will draw their last breath, and our loved ones will celebrate what we meant to them.  In preparation for this time, we must consider how do we want to be remembered?  If you are having difficulty deciding between burial, the less expensive mausoleum entombment or cremation, read our helpful hints below:
Burial vs. Mausoleum vs. Cremation: Your Economic Options
Comparing the Cost of Burial, Mausoleum Entombment and Cremation
If money is going to play a significant role in your decision, chances are that cremation may appeal to you.  Many families are not aware that above ground can be competitive with the cost of cremation and half the cost of a below ground burial. According to the New Jersey Funeral Directors Association in 2015, a burial averaged $8,600 to $17,000 per person.  Memorial Properties offers many pricing options, however, in today's economy many families are not knowledgeable with all of the decisions that can occur at that time. As stated above, many are not aware that Above Ground when pre-planned may be half the cost of a traditional burial and even compete with cremation pricing.
World Class – First Class Cremation Gardens
Memorial Properties has a wide variety of cremation options for memorialization, regardless of whether you chose inurnment or interment of ashes (cremains). We have World Class – First Class Cremation Botanical Gardens, Glass Front Niches and many other cost effective options. Prices begin at $295.00.
What do your Loves Ones Desire?
Chances are if you are undecided on whether to be cremated, buried or choosing above ground, the insight of family and friends will be of great value. Memorial Properties believes it is very important to have cremation professionally explained if you are interested in cremation.  Most people like the idea and ritual of visiting in the beauty of a chapel mausoleum or cemetery. This will give you more memorialization choices at very low costs.
Protection From Rising Costs Due To Inflation
Pre-Planning allows you to acquire your services at today's price, free from inflationary pressures in the future.  You will also gain peace of mind knowing that your family and friends will be relieved of the financial burden often associated with making arrangements when a death occurs.  Those who pre-arrange before the actual need arises can receive substantial discounts at the cemetery.
Your Many Options
The number of ways to make your final arrangements is as limitless as your imagination.  Your personal needs and preferences are always taken into account, whether they are religious, traditional or financial. Even if you are not sure what you prefer, we will be happy to assist you.
Memorial services are all yours and we will work with you every step of the way to make your choices as easy as possible.