Whiting Memorial Park & Mausoleum in Whiting, NJ
600 Route 530 Whiting, NJ 08759
Above-Ground Burial Services and Mausoleum in Whiting, NJ
Whiting Memorial Park and Mausoleum in NJ is a family-owned, full-service memorial park in Ocean County that offers individual services to fit NJ families' needs and wishes at anyprice point. Whiting Memorial Park and Mausoleum is dedicated to serving you in your time of need while giving you the peace of mind that everything is being taken care of for your loved one. Our grounds offer above-ground burial services for both intact and cremated remains and many religious and cultural burial programs.
Whiting Memorial Park and Mausoleum is not only a beautiful place where you can lay your loved ones to rest but also a place that will bring you tranquility while paying your respects. Each time you visit, you will know that your loved ones were buried and memorialized in a respectful way and are in a beautiful and well-maintained place. Memorial Properties will work with you to ensure that your needs and wishes are met and that you have a place to visit to reflect on the memories of those you have lost.
Contact Us For More Burial Option Information
Above-Ground Burial Options in Ocean County NJ

At Memorial Properties, we specialize in above-ground burial in Ocean County and ensure that each family who works with us is able to make the best choice for themselves and their loved ones. Whiting Memorial Park is home to a non-denominational mausoleum that overlooks a gorgeous vista, where your loved ones can peacefully rest. Above-ground burial is more cost-effective than atraditional in-ground burial, and our grounds are kept pristine 365 days a year, so you will have a serene place to reflect.
Cremation is when the body is reduced to its most basic elements, and is one of the steps towards the memorialization of someone who has passed away. Cremains are placed in a personalized urn and can then be put to rest in one of our mausoleums or interred below-ground. Memorial Properties offers Ocean County families community bible niches, private niches, private family cremation spaces, and urn gardens for cremated remains.
Special Burial Programs Offered in Ocean County at Whiting Memorial Park & Mausoleum
As a family-owned and operated company, we recognize the importance of honoring culture and tradition when someone passes away. We offer a number ofreligious and cultural burial programsto families that work with us, as well as programs focused on honoring the lives of those who served our country and communities.
Areas We Serve
Memorial Properties proudly offers in-ground burials, above-ground burials, and cremation services for families in Whiting, New Jersey. With ten beautiful cemeteries and mausoleums located throughout NJ, you never have to travel far for high-quality and compassionate memorial services. We also have a wide range of personalized burial programs, to honor all religious and cultural backgrounds, upon request. Explore all of the areas we serve, including those in Whiting and Ocean County, to begin pre-planning your own arrangements or to plan the funeral of a loved one today.
Memorial Properties' Cemeteries and Mausoleums in New Jersey
Along with Whiting Memorial Park & Mausoleum in Ocean County, Memorial Properties is proud to provide NJ families with tencemeteries and mausoleumsthroughout the state. Whether you are looking to pre-plan your own arrangements or have been tasked with making arrangements for a recently deceased loved one, our serene and historic locations will provide you with a beautiful place to remember those you have lost.
Compassionate Burial Services from Memorial Properties in Whiting, NJ
Whether you want to makepre-arranged burial plansor are looking to honor a loved one, Whiting Memorial Park and Mausoleum can help you through every step of the planning process. At Whiting Memorial Park and Mausoleum, we have served the families of Whiting, Ocean County, and the surrounding communities for more than thirty years. Our facility includes a modern office, administration building, and our most prominent feature – the modern, non-denominational Chapel Mausoleum. It is nestled in the main body of the park well removed from the highway and overlooks the entire vista.Contact usor visit Whiting Memorial Park and Mausoleum today to pre-plan or arrange a burial with help from Memorial Properties.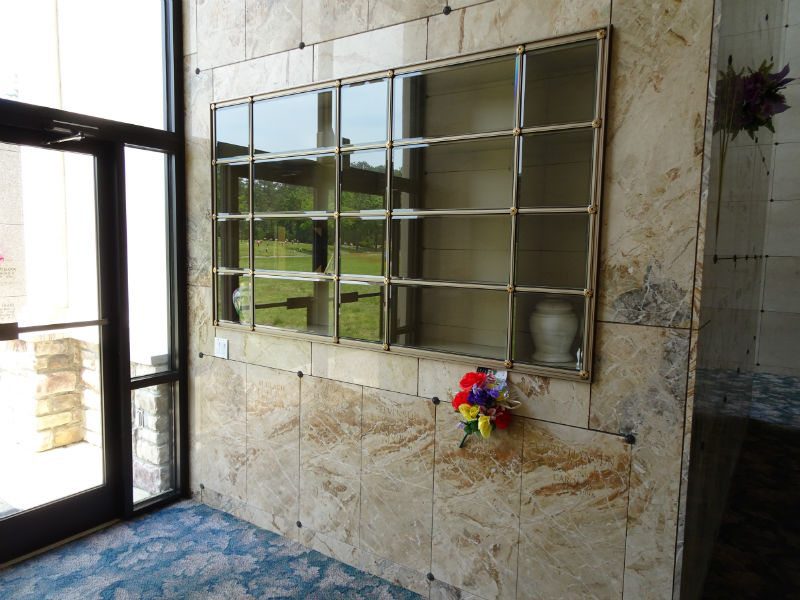 Get a Free Family Records Portfolio When You Pre-Plan with Memorial Properties