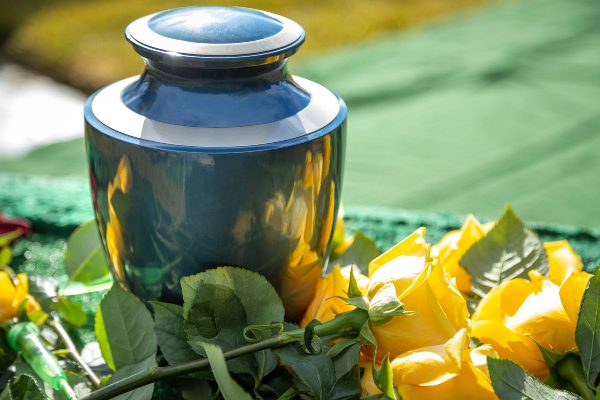 How to Choose Between Cremation and Burial in NJ
Pre-planning your funeral arrangements involves several important considerations, including the choice to be cremated or buried. Choosing how you'd like to be laid to rest is a highly personal decision and one that many people do not want to think about. However, pre-planning your arrangements, which includes making this decision, is one of the best ways to ensure that you and your family are prepared for the future and that your preferences will be honored down the road. Memorial Properties offers in-ground burial, above-ground burial, and cremation at each of our ten cemetery and mausoleum locations throughout New Jersey, so that we can accommodate your specific choice for burial. Our mausoleums are designed specifically for both cremated and intact remains above ground, and we provide additional spaces for more than one family member to be put to rest together. We will work with you during the pre-planning process to ensure that every last detail is taken care of, so your wishes can be addressed and honored in the future.
Why Should I Pre-Plan My Burial Arrangements?
Before we cover how to choose between cremation and burial, it is important to discuss the benefits of making this decision ahead of time. When you choose to pre-plan your funeral and burial services in NJ, you take some of the burden off of your loved ones so they can focus on celebrating your life the way you would have wanted. You can save them hundreds – even thousands – of dollars on final arrangements, since funeral costs rise every year. Planning now gives you access to today's costs, rather than tomorrow's. Along with reducing financial burden, pre-planning your arrangements takes away some of the emotional burden of losing a loved one in the future – although this time will still be difficult, your loved ones will not have to plan the arrangements and worry that they did not make the right choice. Taking this step ahead of time will give them the opportunity to grieve without additional stress. We encourage everyone in NJ to pre-plan their arrangements, no matter which burial option they are most interested in. When you pre-plan with Memorial Properties, you will receive a certificate of credit up to $1495 to put towards an above-ground space, in-ground interment space, or community bible niche at one of our cemeteries or mausoleums in New Jersey.
Choosing Between Cremation and Burial
The decision for how you would like to be put to rest is a very personal one, and can be influenced by a variety of factors. Financial considerations are often at the forefront, but aside from the cost, family traditions, religious and cultural backgrounds, and personal beliefs often contribute to a person's decision to be cremated or buried.
This decision is accompanied by many others – when making your final arrangements, you should also consider:
Flexibility of options
Timing of services
Disposition options
Methods of memorialization
Impact on the grieving process
The above factors will help you determine the best burial process for you or a loved one, as this is a decision that is often discussed with family members so that those closest to you are aware of your wishes and any decisions you make ahead of time.
Financial Considerations of Cremations and Burials in NJ
The difference in price for cremation and burial is a key factor to consider. Expenses associated with traditional burials are often higher than the cost of cremation. Above-ground burial, which covers both intact and cremated remains in cemeteries and mausoleums at Memorial Properties, allows individuals to save on many of the costs associated with traditional in-ground burial. The best way to keep costs in check is to research your options ahead of time. Typical costs associated with each option are listed below.
Cremation Costs
Embalming and other preparation of the body: $700 – $1,800
Cremation urns: $280 – $5,000+
Burial Costs
Embalming and other preparation of the body: $700 – $1,800
Casket, vault, and hearse: $3,900+
Graves and headstones: $2,600+
Note: Choosing above-ground burial in a mausoleum provides cost savings for families in NJ. You will be able to avoid many of the traditional costs associated with in-ground burial, including cemetery graves, vaults, markers, family monuments, and lot maintenance.
In a sincere effort to be transparent, we want families in need of burial services in NJ to understand all of the expected costs when planning a funeral. Memorial Properties offers individual services and financial options to meet everyone's needs. In general, ground space for one costs $1,690, and mausoleum space for two costs $1,760.
Religious Considerations Surrounding Cremation and Burial
Beliefs and practices around death and dying are often tied to religious views. While cremation is widely accepted, some religions prohibit the practice and prefer burial. For example, until the 1960s, the Catholic Church didn't allow cremation but has since lifted the ban as long as the remains are buried. Muslims and those of Jewish faith have specific views on how bodies should be handled after death, so in most cases, cremation is forbidden. On the other hand, Hindus and Buddhists favor cremation over burial, but both options are acceptable. As a family-owned and operated company, we understand the deep importance of tradition, rituals, and family during burial planning. Memorial Properties offers a wide range of unique and personalized burial programs to accommodate families of all religious and cultural backgrounds in NJ.
Benefits of Cremation and Burial
Though we often think of burial as being the most common way to lay someone to rest, cremation is becoming increasingly popular among many Americans. In 2019, 54% of all deaths resulted in cremation, and this number is expected to grow to 60% by 2024. Both options offer benefits to surviving loved ones, and they each offer a unique form of remembrance.
Benefits of Cremation in NJ
It's more affordable.
Loved ones can keep your remains with them.
There are no time restraints.
There is more flexibility regarding how the remains are put to rest.
Benefits of Burial in NJ
Loved ones have a place to visit your remains.
It's more familiar and more people are comfortable with it.
Families can make it personal by choosing the casket, headstone, and burial location.
Cremation vs. Burial at Memorial Properties
In-Ground Burial in NJ
In-ground burial is the most traditional choice for burials following death and is ideal for those who want an outdoor memorial and a place for loved ones to visit and reflect. To prepare for in-ground burial, the intact remains are embalmed and placed into a casket. The body and casket are then buried at one of our cemeteries in NJ, which are kept in pristine condition all year long. Families have the option to choose a type of memorial to mark where their loved one is buried, and memorials can be customized with the name, date of birth, death, favorite quote, or even a photograph. Common memorial options include:
Headstone or plaque
Monument or statue
Memorial bench
Above-Ground Burial in NJ
Above-ground burial gives you the flexibility of choosing either cremation or intact burial, as Memorial Properties has above-ground options for both. Families are also able to avoid many of the costs associated with traditional in-ground burial. During the above-ground burial process, cremated or intact remains are entombed in one of our peaceful mausoleums in NJ, either individually or side-by-side with a loved one. We give those in NJ access to both community mausoleums and private mausoleums, so you can choose the option best suited for you. Once the burial process is complete, family members and friends can visit the mausoleum for years to come to pay their respects and reflect on fond memories.
Cremation in NJ
Cremation is the process by which the enclosed deceased is placed in a cremation chamber where, through heat and evaporation, the body is reduced to its most basic elements. After preparation, the 'cremated remains' are often placed in an urn – customized to reflect the individual who has passed away and their preferred style – and then put to rest in a place where family members and friends can visit and reflect on the person's life. At Memorial Properties, cremated remains can be put to rest above-ground in a mausoleum or interred below-ground. Our memorialization options for cremation in NJ include:
Community bible niche
Private niche
Private family cremation space
Urn garden
Choosing the Right Burial Place in New Jersey
A decision that is often made alongside choosing how you would like to be buried is choosing where you would like to be buried. It is important to choose a location that can accommodate the type of burial you are interested in, whether that is in-ground in a cemetery or above-ground in a mausoleum. Mausoleums in New Jersey should be able to accommodate the burial of both intact and cremated remains. When choosing a final resting place, you will also want to consider proximity to your loved ones' homes, price, and rules and requirements. Making this decision ahead of time takes future stress and financial burden off of your loved ones and ensures that all of your wishes for your burial will be met. At Memorial Properties, we are proud to offer those in NJ access to our ten peaceful cemetery and mausoleum locations, which can accommodate in and above-ground burial through our compassionate burial services. With broad financial options and various religious and cultural burial programs available, you will find exactly what you are looking for with Memorial Properties. Learn more about our locations in NJ:
Make Your Burial Decisions with Memorial Properties in NJ
Pre-planning your burial and choosing how you'd like to be laid to rest ahead of time will ensure that your wishes are clear and will leave your family at peace. In addition, funeral and burial costs are rising every year. By planning now, you can alleviate some of the financial burden on your loved ones in the future. We believe that today's wisdom is tomorrow's peace of mind, and we want to help you properly prepare for the future. To learn more about pre-planning, along with our cremation and burial options, please contact us by calling 732-820-0211 today.