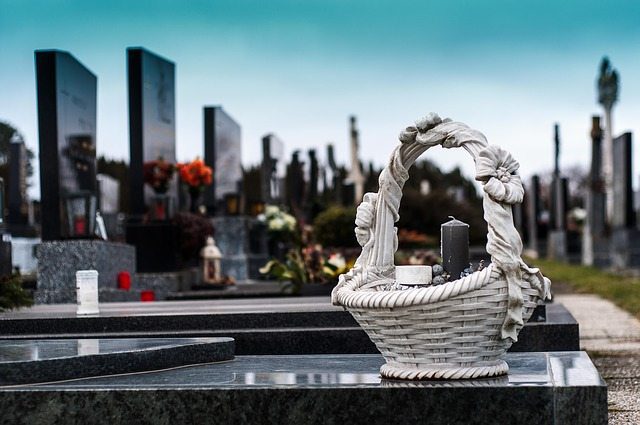 Image via Pixabay
Going to a memorial for a friend, coworker or loved one is never an easy thing to do. If the funeral you are attending is held at a religious place of worship, it is advised that you learn about the customs before you attend. This way, you will act appropriately and feel more comfortable during the rituals. Every religion is unique; a Catholic funeral will have different practices than a Russian Orthodox funeral. Learn the proper etiquette for a religious funeral so you can politely pay your respects.
Proper Etiquette for a Religious Funeral
While each religion has its own customs, there are many similar aspects of religious ceremonies. Typically, religious funerals are held in a place of worship and officiated by a religious leader. Congregants will be available to help guide the uninitiated participant throughout the ritual so they feel comfortable with the different rules and steps. No matter what religious beliefs the person who passed away had, you can expect prayers to be said aloud, along with a eulogy to remember his or her life.
A calm and consoling presence is universally accepted at any funeral. You are there to pay your respects, so be sure to go into the place of worship with an open mind and willingness to follow new rules and traditions, no matter how foreign they may be to you. Learn more about the specifics of different religious funeral traditions below.
Funeral Traditions Of Different Religions
Catholic Funerals
Catholic funerals are typically held in Catholic churches, the chapels of assisted living or care facilities, or in the chapels at cemeteries. Lead by priests, the funeral mass may include the family and friends of the deceased who participate as readers, musicians, pallbearers, ushers and other roles. Only a priest or deacon is allowed to deliver the homily, or sermon, which serves to remember the deceased by incorporating examples from his or her life.
The Rite of Committal, the Catholic interment service, may take place at a gravesite, mausoleum crypt or tomb, or columbarium (if the body was cremated). Before the body is laid to rest, the priest will bless the site. The priest, family and friends gather together to pray over the body for one final time.
Jewish Funerals
While there are many different denominations within Judaism, most people who follow the Jewish faith commonly believe that holiness is attained through following the commandments laid out in the Torah (or Old Testament). Depending on the degree of orthodoxy, cremation may not be allowed. A Jewish funeral is typically held at a synagogue, gravesite or at a funeral home. The service consists of prayers, a eulogy, along with reading of the psalms. Typical prayers recited include the Memorial Prayer (El Maleh Rachamim) and the Mourner's Blessing (Mourner's Kaddish).
Both the family members and the rabbi may deliver multiple eulogies at a Jewish funeral service. Flowers are not typically seen at this religious service; instead, donations are often made to a charity chosen by the deceased. After the funeral is over, the Jewish family sits shiva for seven days. The family will gather everyday to mourn and pray.
Buddhist Funerals
Buddhists commonly believe in samsara, which is a cycle in which one's actions in this life (and previous incarnations) will lead to further reincarnation. Cremation is acceptable in the Buddhist religion. Rather than dressing in black, mourners are advised to wear white to symbolize their grief and seriousness. For the funeral, the casket or cremated remains will be placed at the front of the room with an altar nearby. The altar will feature images of the deceased, images of the Buddha, flowers, fruit and incense. When approaching the space, mourners should bow at the altar with their hands pressed together.
You can expect multiple eulogies, periods of chanting, and sermons. At the end of the service, if the body is to be buried, monks will be present to lead the chanting at the gravesite.
Cemeteries in New Jersey
No matter if you are religious or non-religious, Memorial Properties can help ensure a peaceful resting place for your loved ones. We have worked with many different faiths and are always willing to do whatever you need at the lowest possible cost. For more information about different memorial programs we offer, or to begin preplanning to help your family fulfill this important responsibility, please contact us today.